I was cleaning this morning instead of crocheting (what was I thinking?!?) And I found what I guess would be my first attempt at designing. I wanted to make an afghan and had this "super cool idea!" I made 3 really long stips of just one row each of dc's then braided them together and sc around to hold it together. I really liked how it came out but then realized, since it's only maybe 2 inches wide and 5 feet long, I'd have to make a bazillion of these these strips to make enough for an afghan. My ambition completely deserted me. So a year later I find this poor forgotten thing in the bottom of a bag of yarn and have decided that if I add another round of sc to the border it'll make a super cool scarf!!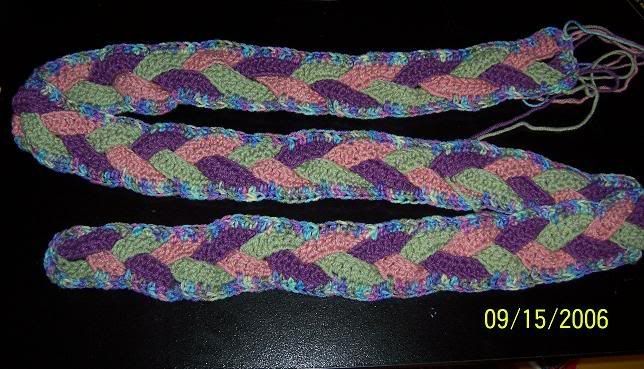 I think for now I'll let other people do the designing.
Speaking of patterns, yesterday I found the Blue Ribbon Crochet book by House of White Birches at the grocery store of all places for only 5.49! Add another couple patterns to the mile long to do list.