Not much to talk about lately. Still trying to get Christmas presents done in time and not start anything new until after. It's not that easy but I really don't want to end up decideing it's not gonna happen (again!) and then have to go out gift shopping at the last minute with no clue what to get anybody. Time is running out!! I can't believe Thanksgiving is in just a couple days.
Anyways, since the first one I made just barely fit Boo I decided to make another BICO in the 12 month size. It is way too big but, at least this one she can grow into.
I'm sure my gauge was off on both of them since I've never made anything that it mattered with before. Anyways, most the guys in my family are all hunters and my dad said once that my daughter was going to be his little hunting buddy. I was going to make her a camo bib but decided a camo BICO would be much better!! ...with purple trim, of course.
I finished it just in time to go to my dad's birthday and completly forgot to get a pic of her in it. She was swimming in it but everybody loved it!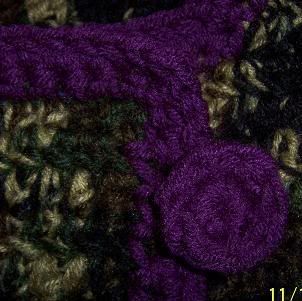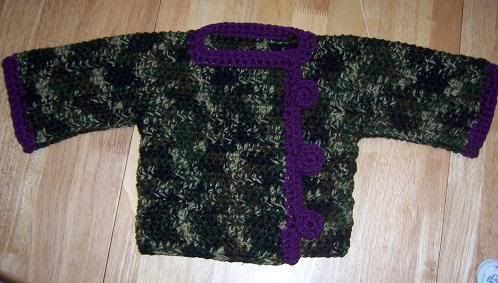 I'm also attempting to crochet Boo's Christmas dress. Lets just say it's not been easy. From the very beginning I've had problems with finding the right pattern to finding the right yarn. After 3 (4?) restarts I think I finally have it figured out. It's now going along pretty good. Hopefully it'll be done in time.