I haven't been able to update in a while cause there's no power in the computer room (Don't get me started on that!) Extention cords are a wonderful thing.
I'm surprised at how many pics I have to show off cause I always feel like I never get anything done! Anyways, I made this purse for myself for my birthday last month. It's a bit lopsided but it works. It's supposed to look like a sweater. It's a nice change to carry around something so small when you're used to carrying a diaper bag everywhere you go! I can't find the pattern link at the moment. I think it might have been on Crochet Me but I'm not sure.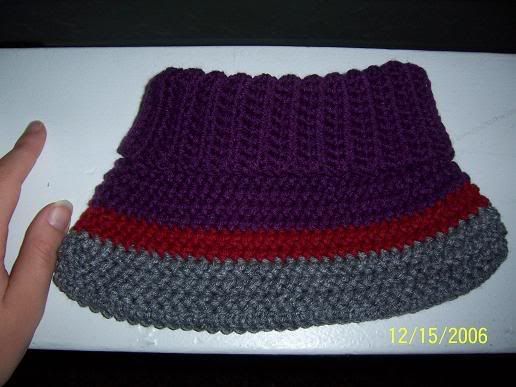 I tought DH to crochet last year and he keeps "borrowing" my hooks. Since I really don't need any help losing my hooks I made him a hook holder for Christmas and bought him his own set of hooks. He loves it! As usual, pattern link is MIA.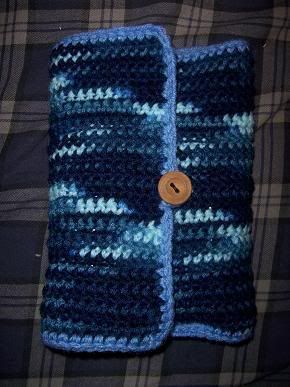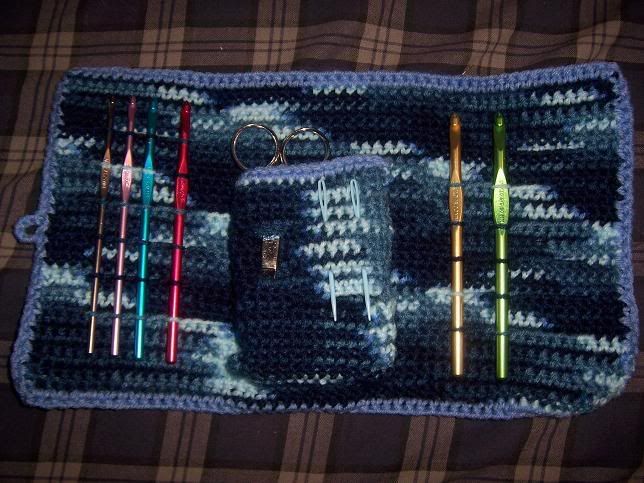 These were supposed to be done for Christmas last year but I didn't get them all done in time so they waited for this year. There were 5 altogether. My blocking skills are not the greatest and it's not a very good pic of them anyways. For 2 of them I got "Ooohh how nice" in that tone of voice that I'm not really sure if they really liked it or if they were just being nice. My mother-in-law absolutely loved hers and is having the father-in-law make a frame so she can hang it on the wall where it will be seen when you walk in the front door. The other 2 haven't been recieved yet.
I made this dress for my baby Boo's first Christmas. I searched all over for the perfect pattern. I finally found it but then couldn't understand the directions. Then I found a booklet by Annie's Attic called Beautiful Baby Boutique. I started out with Red Heart Supersaver and quickly figured out that it was going to be too stiff and scratchy not to mention it was working up big enough to fit her for next years Christmas. I started over with Caron Simply Soft which worked out much much better. When I got to the skirt part I didn't like how it was looking so I switched to a different pattern in the book. I had to add more rows so it wouldn't look like a mini skirt and was finally able to put the bow and buttons on it on Christmas eve. I almosst gave up several times and was very worried that it wouldn't fit but didn't want to try it on her ahead of time in case she spit up on it.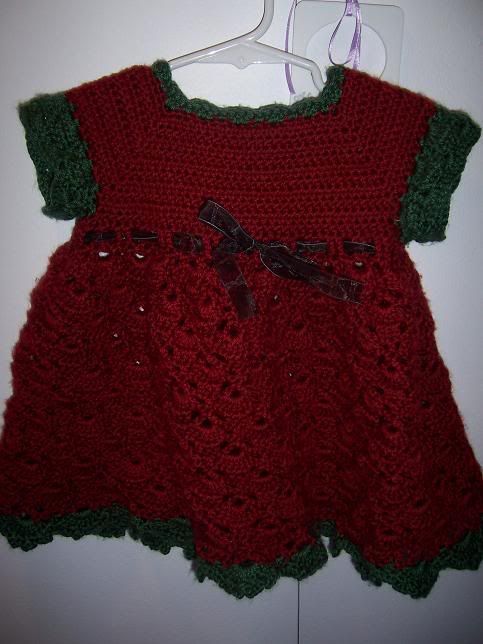 It fit!! Everybody loved it. I think any future children will either wear the same dress or get a store bought one.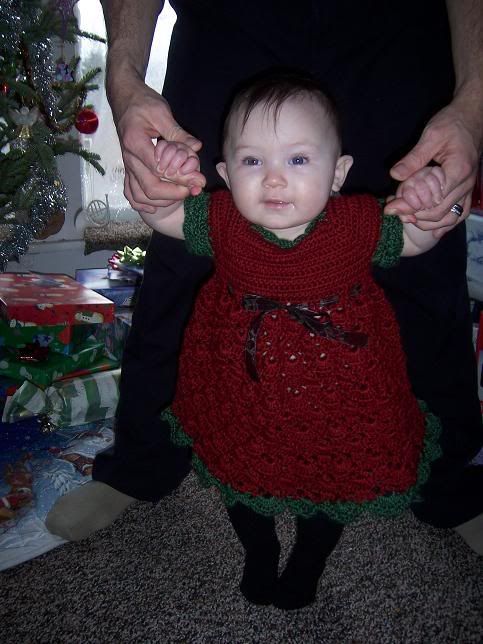 After New Year's I started the Bell Sleeved Tunic from the BH&G Simply Creative Corchet magazine. Other than a couple things for Boo it's the first wearable I've made. I haven't gotten very far on it yet but hope to get it done in time to wear it a couple times while it's still cold out. There's a CAL over at Crochetville for it some come join me!! Here's what I'm planning on using.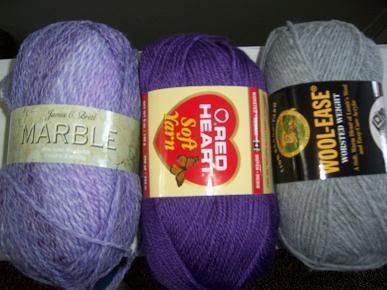 I made this scarf for my cousin's birthday. I used some simply soft in purple and light blue from my stash. Pattern is
here
.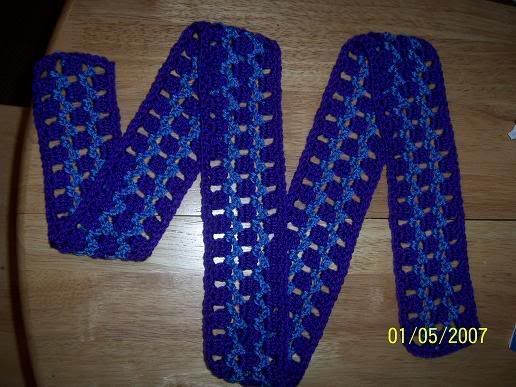 And as if I didn't have enough crochet wips already, last weekend I started learning how to knit. So far it's pretty easy but then I've only done knit and purl. Don't know when I'll try more. This is going to be a scarf for DH if I have the patience for it.