I had a pretty busy weekend working on my late swaps and also trying to make sure I get others done before they're late too! I need to quit signing up for swaps that all end around the same time. Anyways, I got a couple swaps sent out on Saturday, a couple more to send out today and a couple more to send out sometime this week!!
These are for the Easter Circle Book swap. I had to make a page for nine partners. I did make an extra one for myself but it's not finished cause I ran out of bunnies. I've never made a circle page before so I hope my partners like them! I keep thinking I should have done something more with them but I had a pretty hard time coming with these to begin with. I bought several different Easter themed embelishments and papers but nothing seemed to go together very well.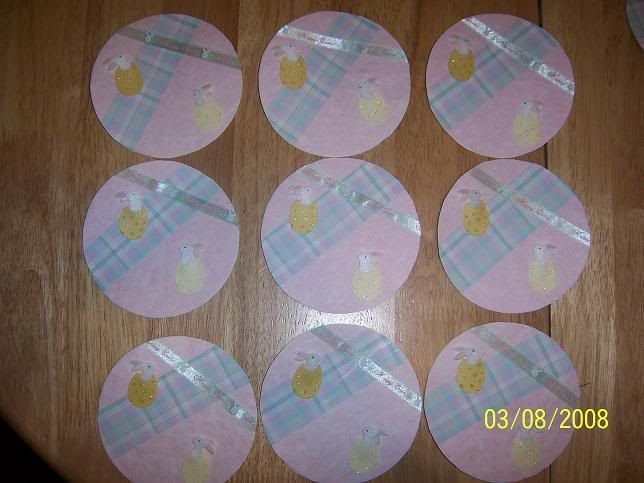 The ribbon has bunnies on it and says Happy Easter
Back
I'll probably try these again sometime. I like that I only had to design one page instead of a whole book. I already got five pages from my other partners and can't wait to get the rest. I think the book will look great when it's all put together.
These are for several different ATC swaps. Again, not completely happy with some of these. I just never seem to have the right supplies. Or maybe I'm just being too hard on myself?